Here´s our story
Sharebox's mission is to enable people and organizations to manage keys effectively by creating the best hardware and software platform.
Sharebox was founded in 2016 and provides consumer and enterprise API software and IoT key exchange systems for intelligent access management.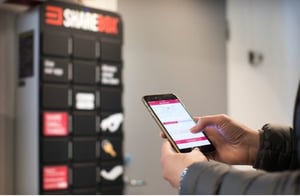 Sharebox operates a distributed network of key exchange machines in over 450 kiosks, shops and central meeting points in 8 countries. We serve the private market of home owners, Airbnb hosts, vacation rentals, house cleaners, carpenters, car sharing and real estate operators.
Sharebox provides businesses access management solutions with API software for property managers, buildings, car rental and car repair workshops. Our business model is to design hardware and develop software for integrated solutions, stocked and distributed in its own wholesale operation. We sell directly to businesses offering key exchange solutions for self-service and extended opening hours combined with systems for online payment and credit check.


Team
Arne Eivind Andersen
CEO, Co-Founder
aea@sharebox.no
(+47) 415 02 160
Leif Arne Dalane
CTO, Co-Founder
leif.arne.dalane@sharebox.no
(+47) 913 80 290
Bjart Andersen
Sales Manager
bjart@sharebox.no
(+47) 909 97 469
Kjetil Faye Lund
Marketing Manager
kjetil.faye.lund@sharebox.no
(+47) 909 23 795
Christian Dehn
Country Manager, Denmark
christian.dehn@sharebox.dk
(+45) 408 74 088
Guillermo Gallardo Cohnen
Country Manager, Spain
guillermo.gallardo@sharebox.es
(+34) 653 366 050
Andreas Lindqvist
Partner, Sharebox Sweden
andreas.lindqvist@sharebox.se
(+46) 736 68 11 11
Albert Sam
Partner, Sharebox Sweden
albert.sam@sharebox.se
(+46) 762 62 63 64
Ole Jørn Horntvedt
Marketing Manager, Sharebox Ltd
ojh@sharebox.global
(+44) 75 3870 4585
Tore Knutsen
Sales Manager, Sharebox Ltd
tk@sharebox.global
(+44) 75 3870 4584

Michael Seistrup
Partner UK&I, Sharebox AS
mse@sharebox.pro
(+44) 7966 967871
Contact
Sharebox is headquartered in Arendal, Norway. The Arendal office is home to Sharebox's founders and the marketing, product, technical and customer success teams.
Address
Sharebox
Vesterveien 173
4817 His
Sharebox is also on e-mail, Twitter, Facebook, and Instagram.

Media Inquiries
If you'd like to schedule an interview with a Sharebox team member or send a speaker request, please make contact.

Interested in joining the team? View job openings.